Caryl Street 15-37 & 2 Brindley Street, Baltic Triangle, Liverpool, L8 5SQ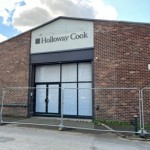 Land and Buildings For Sale ~ 9,952 sq.ft. (924.5 sq.m.) / Price – Unconditional offers invited for the Freehold Interest.
The subject premises is situated on the eastern side of Caryl Street at its junction with Brindley Street, close to Cains Brewery Village in the Baltic Triangle area of Liverpool, on the southern edge of Liverpool City Centre.
The property comprises a predominantly single storey warehouse building and was redeveloped following its acquisition approximately 10 years ago.  It provides two self-contained light industrial units, an attractive high specification office, two stores and a garage.  With the exception of the garage all areas have been extensively refurbished , including a new replacement roof to the main building.  The building consists of an exposed brick skin with structural frame and a pitched roof.  The light industrial units and stores comprise open plan accommodation.  The office accommodation comprises a large double height open plan office space and reception area, meeting facilities, kitchen and WC's and private offices.  Externally there is a large car park.
Click on the link for more information - Caryl Street 15-37
Contact Nick Harrop