Most Active Office Agent in the Region * Most Active Merseyside Agent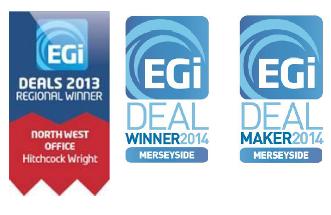 For the sixth time, national publication Estates Gazette has named us Most Active Agent in the North West in the office sector. This is based on the number of transactions completed between 1st Jan & 31st Dec 2013.
We have also won the Most Active Regional Agent for Merseyside competition for the period 1st May 13 to 30th April 14, with Brian Ricketts winning the Dealmaker Award.
Brian Rickets, head of Office Agency, is quoted in Move Commercial as saying '…After a tough six or seven years or so it is great to see all our hard work has finally paid off.'
'Like many of the provincial cities, the Liverpool Office market lay in the doldrums since the economic crash in late 2007, and has suffered low levels of confidence and demand. However, recently published findings by Professional Liverpool take up figures for 2013 appear to herald the re-emergence of some long awaited positive activity, and certain key take-up trends which are most encouraging.'
'For us, the award is a reflection of this improvement, and we are thrilled to be recognised.'
*****
We were delighted Estates Gazette said – "The Most Active Agent accolade is widely recognised as one of the most prestigious titles for agents and the EGi Deals Competition is always inundated with entries. To be named most active agent in Merseyside is something Hitchcock Wright and Partners should be very proud of. It demonstrates their status as a leading agent in the region and they will now continue to achieve success in the coming year. Well done to the team as a whole, and to Brian Ricketts who scooped the Dealmaker of the Year title."
*****
  Postscript – Nick won the Dealmaker Award in 2016 – see the article here