HMCC Cyclo-cross Race 12th September 2021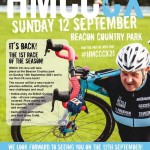 Hitchcock Wright and Partners have great pleasure in sponsoring the first Cyclo-cross races of the season for the Harry Middleton Cycling Club. The races will be held at Beacon Country Park in Upholland and promise plenty of exciting competition and MUD.
Partner John Barker, a keen cyclist who excels at falling off, will be taking part with his son. We expect a competitive day! Our money is on Kit, though. If you want to see the fun, the first race starts at 10.00am and refreshments will be available.
Check out the Facebook page here HMCC CX | Facebook