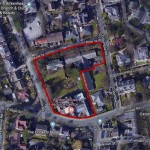 For Sale ~ Development Opportunity – 1.27 Acres – Part sale considered
Three building set in a 1.27 acre site in the much sough after area of Oxton Village. Ashton House is the main 3 storey (plus basement) building fronting onto Village Road and has many original features remaining including a grand staircase through the centre of the building. More recently two additional buildings have been constructed in the grounds.
Oxton Village is a conservation area located within a 5 minute drive from the M53 and Queensway tunnel making it convenient for commuting or accessing Liverpool City Centre. The property is a short walk from the heart of Oxton Village which offers amenities such as local shops, restaurants & bars including the Michelin star rated Fraiche.
Click on the link for more information - Ashton House
Contact Matt Kerrigan